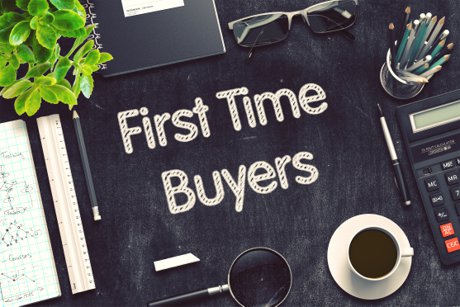 Owning your first home is still a milestone in our lives and not many regret the achievement. However, in this day, many people are nervous to start the homebuying process. It seems like a huge undertaking and a 20% downpayment sounds untenable.
Here we are going to give an overview of the home buying process to help alleviate some of your fear. Armed with a guide to home buying, you can approach your momentous purchase with familiarity and awareness.
Step One: Are you ready for this?
Buying a home is an exciting undertaking. In the end, you will have a house that is all yours and a significant amount of equity, but we aren't going to say it is an easy journey. There will be a couple of months of hard work and scrutiny before you get the keys to your very own home.
Make sure to consider your finances, job security, and your ability to commit a good deal of your time to the tasks and requirements that buying a new home entails. If you are, terrific! By the end of this endeavor, you're going to be so proud. If you're not ready, don't sweat it! You'll get there. And remember, there will be lots of support along the way.
Step Two: What you'll need to prepare
You're going to need to hand over a ton of information during the course of buying your first home, so you might as well get it ready now. Take a look at your debt to income ratio (DTI) and your credit score and see if there is anything you can do to improve either before applying for your mortgage loan.
To put an offer in on a house, you'll need to get pre-approved for a mortgage. You'll provide your social security number and answer a few questions. The lender will do a credit check and provide you with a preapproval letter.
Here's a list of things that your lender will need from you throughout the process:
Proof of identity- Driver's License, passport, government-issued ID card

W-2s- From your current job as well as any other job in the last two years

Proof of employment letter- From your current employer

Pay stubs- From the last 30 days

Tax Returns- From the current year and one previous, or previous two if the current year's taxes cannot yet be filed

Bank statements- From the last 60 days

Proof of reserves- Proving you have enough in your account to cover the down payment, closing costs, and three months of mortgage payments
Step Three: Down payment and closing costs?
The down payment is a large (from around 3% to 20% of your purchase price), one-time payment that you make when you close on your home. This is your initial investment in your home, and often, the greater the down payment amount, the lower your mortgage interest rate and monthly payments. In addition, for most loans, if you've put down 20% or more, you won't need to provide private mortgage insurance.
"Closing costs are fees and expenses you pay when you close on your house, beyond the down payment. These costs can run 3 to 5 percent of the loan amount and may include title insurance, attorney fees, appraisals, taxes and more," according to Bank of America. These may be offset by any credits from the inspection process and are due at closing.
Down payment assistance programs:
We understand that 25% of your purchase price seems like an astronomical amount to have on hand, especially for your first home, but there are ways other than savings and gifts from family members to help when you are a first-time homebuyer. First-time homebuyers "can get help from state programs, tax breaks, and federally backed loans," writes Investopedia. Utilizing different down payment assistance programs, you could put as little as 0% down out-of-pocket and get help with your closing costs.
To take advantage of first-time homebuyer assistance programs, talk to your real estate agent and mortgage broker. Here are some resources for programs you might qualify for in Colorado:
https://www.fha.com/fha-grants?state=CO
https://www.hud.gov/states/colorado/homeownership/buyingprgms
Step Four: Find a real estate agent
Some might suggest finding a lender first, but we recommend deciding on your real estate agent. Your agent can then lead you to a lender/mortgage broker that they've worked with before and trust.
Your real estate agent is going to be your lifeline during this process. Not only will they help you find homes that match your needs and then visit the homes with you, but they will "assist you in negotiating the entire purchase process, including making an offer, getting a loan, and completing paperwork."
In order to find a great real estate agent, start by asking friends and family members for recommendations. Word of mouth is still the best strategy. Once you have some potential candidates, research them, check their references, and meet them to see if you get along. And if you're looking for houses for sale in Longmont, CO, or surrounding areas, give us a call at Turner Realty!
Step Five: Find a lender
For first-time home buyers, we recommend working with a mortgage broker. A mortgage broker will search out the best loans for you. This will save you time and headaches as a broker has access to a wide range of options, rather than inquiring with banks and private lenders yourself. Along with your real estate agent, they will make sure to keep your best interests in mind. However, feel free to do your own research if there are any programs that you think will suit your needs.
Even before you've found your lender, figure out how much you can afford to pay each month. Take into account your income and budget. Remember, you'll have to pay your mortgage for many years. Ensure that you pick an amount that is comfortable for you.
Then, choose a loan from the range that your mortgage broker recommends: conventional loan, FHA (Federal Housing Administration) loan, VA loan (no down payment) if you are a veteran or active-duty member (or qualifying surviving spouse), or you might qualify for the government-backed USDA loan. Since you are a first-time homebuyer, you'll also want to look into the down payment assistance programs linked in Step Three.
Finally, you'll use the items you collected in Step Two to get pre-approved for a loan. Your mortgage broker will get a pre-approval letter from the lender and you will give it to your real estate agent. This will allow you to put an offer in on a house.
Step Six: Start house hunting
Now for the most exciting part—house hunting! You'll need to start out by setting some perimeters for your house search:
What is your price range?
You will decide this by considering how much you have been pre-approved for and how much you can afford to spend on mortgage payments.
What area are you looking in?
Consider the distance to work, friends and family, quality of schools, local amenities, etc.
What attributes are you looking for in a home?

How many bedrooms/bathrooms?

Backyard/front yard

Home, condo, apartment, land, duplex, etc.

Square footage

Garage, carport, street parking, etc.

Storage

Room for expansion/upgrade
Discuss everything you are looking for with your real estate agent and they will come up with a list of suitable homes for sale. Look through the list and pick out the houses you'd like to see.
This may take some time, but remember, you are looking for a home that you will enjoy for years to come. To aid your agent in this process, be specific about the reasons you like or dislike the houses you view. This will inform them moving forward thus streamlining the process.
Step Seven: Make an offer
Creating the offer
Once you've found the home that you can see yourself thriving in, it is time to put in an offer! Your real estate agent will guide you through this step. They will compare the asking price with the selling prices of other homes in the area and look at current trends to help you decide how much to offer.
Earnest money deposit
Often, you will be expected to add an "earnest money deposit" to your offer. Earnest money is a small deposit of money to assert the seriousness of your offer. This is usually 1%–2% of the price of the house and it will be applied to the down payment and closing costs at the time of closing.
Negotiating the offer
The seller will review the offer and customarily respond, in writing, within 24-72 hours. However, a buyer does not have to respond, which can tie you up because you can not extend more than one offer at a time. If the seller hasn't responded within 72 hours, you can withdraw the offer, enhance the offer, or just keep waiting.
Most likely, the seller will respond promptly with either an acceptance of the offer, a rejection, or a counteroffer that opens up negotiations. When you've reached a suitable deal, you'll go under contract and move on to the next step.
Step Eight: Inspection
If your offer is accepted, you are under contract! You're not home free yet, but getting under contract is one major hurdle out of the way.
Now, you'll hire someone to do a home inspection. This inspection is vitally important for the home buyer. It can reveal small problems and repairs that will need to be made, but it can also alert you to major issues.
Your real estate agent will typically write a "home inspection contingency" into the offer. This allows you to back out of the contract if a health hazard or other severe issue is found without losing your earnest money deposit. However, you also have the option to negotiate repairs or credits to your down payment/closing costs.
Be sure to go through this inspection report with a fine-toothed comb. Everything on this list will become your responsibility once the sale is final.
Step Nine: Appraisal
Once the inspection negotiations are done, it's time to get the house appraised. Mortgage lenders require an appraisal because they cannot lend more than the home is worth. This is why your agent looked at comparable purchase prices in your area. If the appraisal comes in at below your offer price, you will have to find a way to pay for that gap in funding.
Discuss adding an "appraisal contingency" into your offer. This will allow you to back out if the appraisal is lower than your offer price without losing your earnest money. Or you could negotiate a lowering of the final purchase price if the appraisal is low.
If the appraisal comes in at or above your offer price, you are in the clear and ready to close on your new home!
Step Ten: Closing
Right before closing, you'll have a chance to do a final walkthrough of the house. This isn't just a formality. You'll want to check and make sure that any agreed-upon repairs have been completed and that nothing new has cropped up during the buying process. When the walkthrough is complete, it is all dotting i's, crossing t's, and signing paperwork.
You will receive a closing disclosure a few days before the scheduled closing. This will explain the loan details and what you will need to pay at closing. Make sure there is nothing drastically different here than what was quoted to you at pre-approval.
Now, you will sit down to sign the paperwork with the escrow officer. In attendance will be your agent, and possibly your lender or mortgage broker, the seller, and the seller's real estate agent.
In this meeting you will:
Provide ID, proof of funds, and a copy of your closing disclosure

Pay the down payment and closing costs

Sign the settlement statement and mortgage or deed of trust

Receive the keys to your new home!
Now you're a homeowner!
We know this process may seem daunting, but don't forget that you will have the help and guidance of your real estate agent and mortgage broker the entire time. That is why it is important to find someone you trust.
If you're ready to buy your first home and are in need of an established Longmont Realtor® to assist you, Turner Realty of Longmont has got you covered! Contact us today to get started.
References and Resources
https://www.investopedia.com/updates/first-time-home-buyer/
https://www.nchfa.com/news/top-5-documents-give-your-mortgage-lender